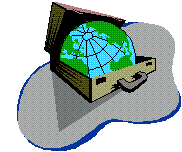 We can be the
"instant marketing department"
or MarCom Team
for your Canadian
R&D Lab or Sales Office.
Like a Genie in a bottle,
...awesome power,
...no overheads,
...wishes come true.
Setting Up Shop in Silicon Valley North?
One of the services we provide to many foreign companies is to function as the marketing department for their Canadian and/or Ottawa operations, on an out-sourced basis. This can include provision of recruiting communications and event assistance, product and profile advertising, media, public, and investor relations, sponsorships and community events exploitation, direct marketing events design and execution (trade shows, direct mail programs, etc.), and many other related services. All activities are optimized for Canadian target audiences, and executed in a truly strategic, truly integrated fashion, as and when required.

In delivering these services, we work closely with the marketing departments of the foreign headquarters of these companies, as well as with the senior operational management of the Canadian subsidiaries. This requires a kind of schizophrenia: a dual commitment to respecting and reinforcing the global strategic positioning objectives and identity standards of the parent, while creatively and innovatively adapting to the specific communications needs and sensitivities of the Canadian operation.



Examples of past clients who engaged us to provide this comprehensive service include:

~ Cadence Design Systems Inc., (San Jose, CA, USA), for its Ottawa and Toronto Design Services Labs;

~ Premisys Communications Inc., (Fremont, CA, USA, recently acquired by Zhone Technologies Inc., Oakland, CA, USA), for its Canadian subsidiary and its Ottawa R&D Center;

~ Realia Inc., (Chicago, IL, USA, now an R&D division of Computer Associates), for its Canadian subsidiary, including sales and R&D operations;

~ Tadiran Telecommunications, Ltd., (Israel) , for its Canadian operations especially Canadian HQ and sales office in Ottawa.

Of all the foreign companies who engaged and utilized us as their Canadian marketing, marcomm and recruiting communications team, guess how many exceeded all their targets? Every single one! So, what are you waiting for?